Meet Our Donors
Picture Perfect - Saying Thanks with a Gift of Gratitude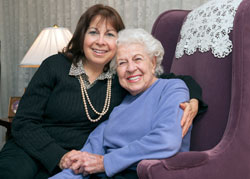 Every September students in Janet Gray's classroom at Florence M. Gaudineer Middle School in Springfield undertake a special assignment: they submit drawings for Overlook Foundation's annual Thanksgiving card. The illustration eventually chosen reflects both the foundation's thanks and the teacher who inspires her sixth-graders.
Janet's ties to Overlook run deep. The medical center helped bring several babies into her extended family; it has provided emergency, outpatient, and surgical care; and it eased the pain from her father's passing through compassionate hospice care. During her years as the foundation's director of annual giving, the longtime Springfield resident saw how donations benefitted the hospital and the patients it serves.
"I felt so privileged and humbled to be a part of that process," says Janet, whose two grown sons work in the medical field. "When I recently rewrote my will, I wanted to ensure that my personal legacy also benefitted the Overlook community. This medical center has been a bastion of comfort and support to my family for generations. A bequest in my will allows me to make a more substantive contribution than I would typically he able to make in an annual gift."
Giving back and inspiring others to make a difference admittedly makes Janet feel good. She is proud that her 89-ycar-old mother still loves to volunteer at Overlook, and she is delighted that her students enjoy the process of creating their own legacy through their artwork. Sometimes good deeds, like pictures, arc worth a thousand words.
"Besides the state-of-the-art facilities, there is a human component that is ever present at Overlook," Janet observes. "horn the moment you walk in the door, get a cup of coffee, or visit a patient floor, there is a personal touch that is palpable and reassuring."